Leading and Industrial Waterproof Tarpaulin Manufacturers
Goldcoin Tarpaulin are the leading manufacturer of an extensive variety of Waterproof Tarpaulin. The company has cutting-edge production facilities that are outfitted with extrusion lines that are mostly sourced from the most reputable manufacturers around the globe and are situated in various regions of the world. We have carved out a certain area of the market for ourselves to specialize in. We are now at the highpoint of our field because to the commercial and manufacturing expertise that helped us to build a successful firm.
What is Tarpaulin?
Tarpaulin, also known as a tarp, is a strong, flexible, waterproof sheet made of materials such as canvas, polyester, or vinyl. The sheet is often coated with a protective layer, making it more durable and resistant to damage from the elements. Tarpaulins can be used for a variety of purposes, from protecting outdoor furniture and vehicles from rain and sun, to covering construction materials and providing shelter during outdoor events. They are also used for camping, as a groundsheet, to create a makeshift shelter or even as a basic tent. Tarpaulins are available in a range of sizes, colors, and thicknesses, making them versatile and suitable for a wide range of applications. A waterproof tarpaulin is a useful and versatile tool that can be used in a variety of situations. Whether you need to protect your belongings from rain, snow, or wind, a tarpaulin can be the perfect solution. They are commonly used in construction sites, camping trips, or even as temporary roofs

The following people make up our team
Buyers' representatives
Controllers of the quality
Warehousing & packaging staff
Professionals in both sales and marketing
Office coordinators
In order to make tarpaulins, our company built an extended production unit that is outfitted with the most up-to-date technological machinery and equipment. In a general sense, the manufacturing unit may be split up into sections as follows:
A location for the storage of raw materials
Area Dedicated To The Production Method
Manufacturing and Warehousing
Office Management and Organization
Quality Control and Assurance
Product Description
Being the foremost Waterproof Tarpaulin Manufacturers, our products are a blend of high quality, items that have been tested for durability and long life, as well as great worldwide practices to guarantee that you get nothing but the very best of what we have to offer.
Since the beginning of our work our skilled specialists have been excellent quality utilizing only the highest quality raw materials and the most cutting-edge machinery, all while adhering to the standards established by the relevant industry. These products have received praise for their resilience to tearing, beneficial to the environment, portability, simplicity of use, and longevity.
Salient Features of Tarpaulin
Tarpaulin manufactured by leading Goldcoin Waterproof Tarpaulin Manufacturers are well-known for presenting a multitude of remarkable characteristics, which makes it an excellent choice for use in industrial applications.
All of the products are made using virgin polyethylene in their production.
A significant tensile strength as well as resistance to puncture
100 percent watertight, airtight, breathable, oilproof, and rotproof
It is not just light in weight but also quite simple to use.
Good adaptability, making it suitable for covering objects with uneven forms.
UV protection that is stabilized on both sides, providing increased durability even when used in bright outdoor conditions.
Even the tarpaulin itself has fire-resistant properties.
Offered in an enticing assortment of hues, including blue, orange, white, green, red, and silver, amongst others.
100% washable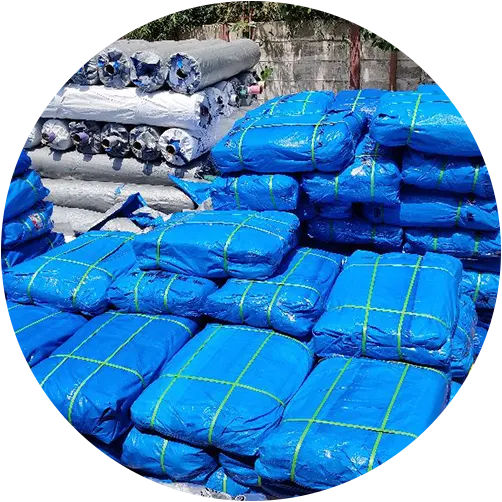 Why choose Goldcoin Tarpaulin?
We have continually worked to acquire industry knowledge in order to produce items of the highest quality. Even after the deal is complete, we go above and beyond to ensure that our customers are completely satisfied. We have been able to provide our clients with innovative products thanks to the persistent labor of our suppliers as well as the in-house development of our own employees. Our decisions are driven by the goal of achieving industry leadership, which will enable the members of our team to provide goods that are tailored to individual needs. In addition, we have upgraded our research and development centers as well as our production facilities to ensure that this objective is met.
Our quality controllers are well-versed in the quality standards that are used even internationally, and they also make it a point to guarantee that our whole manufacturing process is carried out in accordance with these standards. In addition to this, we are backed by a large distribution network, which allows us to deliver the consignment our customers have ordered within the allotted amount of time. Our products have a reputation for having an exceptionally extended shelf life, as well as great quality and unparalleled performance.