Agriculture Tarpaulin Manufacturers
Goldcoin the industry leader in agriculture tarpaulin manufacturing and supply
We, at Goldcoin Tarpaulin, are actively engaged in the process of producing and delivering a superior variety of Industry and Agricultural Tarpaulins, not only across India but also in many other regions of the globe. We provide different types of tarpaulins including waterproof, fire-resistant, UV resistant, and more. We are the Tarpaulins Suppliers in India who offer customized sizes, designs, and colours to their clients Because of our cutting-edge infrastructure and completely integrated production capabilities, we are able to provide customers customized options that are the most beneficial to their specific needs. To ensure the success of Goldcoin Tarpaulin, our experienced team of competent team and highly trained specialists have devoted themselves to the project.
Why Goldcoin Tarpaulin?

Excellent Technology
Our cutting-edge tarpaulins are crafted using cutting-edge materials that have been developed to give great protection against severe weather conditions such as intense rain, wind, and sun exposure. These tarpaulins are particularly built to withstand these types of situations. They are also very long-lasting, which means they can survive significant amounts of usage over an extended period of time.

100% Recyclable Environment
We only use products that are completely recyclable and that have the potential to have a significant positive impact on the environment. We only utilize virgin granules, which ensure that they are 100 percent recyclable. We ate Goldcoin tarpaulins are made up of high-quality materials, which makes recycling simple and effective.
Customized Products
The members of our team will spend a lot of time with you to learn about your unique requirements and discuss the several kinds of tarpaulin that might meet those demands. We are able to assist you in selecting the most appropriate tarp material for the task at hand, whether it be heavy duty or lightweight. These are customized to match the dimensions and specifications that you want

Completely Integrated Manufacturing
During the manufacturing process, we normally design the products that we produce in-house, get the raw materials and components that we need from various suppliers, and carry out all of the production steps in-house. The completely integrated production unit that we have is the heartbeat that drives our company. Because of this, we are able to exercise full control over the whole of the manufacturing process, so assuring that the goods our consumers purchase will more than live up to their anticipations.
Tarpaulins For Agriculture And Industries
As one of the most successful Agriculture tarpaulin manufacturers we are able to provide our customers with a comprehensive selection of tarpaulin in terms of both size and colour. We play a significant part in assisting farmers in ensuring the success of their agricultural products and livestock by providing them with the necessary protection and longevity. We are committed to satisfy the quality standards in accordance with the requirements set by the client.
Together with our clients in the agricultural and industrial equipment industries, we have spent a significant amount of time developing tarps over the last many years.
Our expertise in innovative protective tarp solutions extends to all types of agricultural machinery, including but not limited to those used for plowing, cultivating, sowing, spreading, spraying, harvesting, feeding, and precision farming equipment. Goldcoin tarpaulins are ideal for use as outdoor storage and for the protection of various materials, including food grains. In addition to that, we also provide ultraviolet-treated vermi bed to meet the demands of the agricultural business.
Our skilled engineers and artisans make the tarps according to the requirements and specifications, continually adjusting to the needs of the machines and the tasks it performs. A steady flow of tarp manufacture for agricultural and industrial machines is available from our company and is sent all over the globe.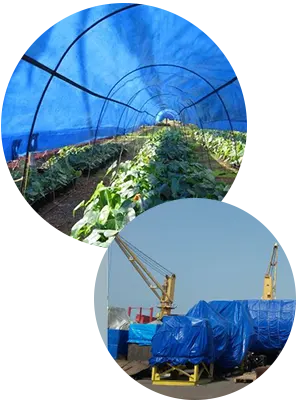 HDPE Agricultural Tarpaulin
We are the chief Agriculture tarpaulin manufacturers and supply, and our products include an excellent collection of tarpaulins. These tarpaulins are built using polyester fabrics. Our HDPE Agricultural Tarpaulin is made with waterproofing, UV resistance, brilliant colors, heat connected more securely, and a leak proof quality that is 100%
UV Agricultural Tarpaulin
We are engaged in supplying a wide variety of UV Agricultural Tarpaulin to our esteemed clients, and for this, we are supported by a team of highly skilled experts who have extensive industry expertise as well as a solid knowledge of the market.
We are able to provide the highest possible degree of joy to our clients as a result of the dedicated efforts of the experts that make up our team. The promptness of our deliveries, the flexibility of our payment options, and the customizability of our products have earned us widespread recognition. The major qualities of our products, such as their extended service life and increased efficiency, earn them a high level of appreciation.
Our team is always ready to help you with any service or product that we offer. Contact us now with your requirements.